Category Archives:
Television
Okay, quick recap time. Rumors spread about a Farrah Abraham sex tape being shopped around to websites. Then we found out that the alleged sex tape was really just a planned porn video Farrah did with one of the top male porn stars in the business, James Deen. A big cloud of embarrassment followed Farrah around and she was forced to come up with some excuse for her pathetic behavior. Farrah then claimed that the video was for "personal use" and that she basically did it for the memories. The memories of getting pounded by a porn star.
Anyway, a week or so later, Farrah decided to sell the video that was supposedly made for just "personal" use. Vivid Entertainment ended up buying the video for $1.5 million, which means Farrah got paid $1.5 millon just to have sex with a porn star. Flash forward to today and we now have an official release of the highly anticipated video. It's only been about a month since Farrah actually made the video, but I guess things work fast when there is money to be made. One of the most interesting things about this whole thing is that Vivid Entertainment is still trying to market it as a "leaked" sex tape. Even though we all know it was made professionally with multiple cameras and a freaking hair and make-up crew.
Vivid Entertainment writes about the video,
"From Iowa cheerleader to MTV Teen Mom Star, Midwest beauty Farrah Abraham breaks free with her most daring video ever, Farrah Superstar: Backdoor Teen Mom. Made originally as a personal 'boudoir' tape, Farrah decided to release the video to her fans due to an overwhelming response once news of the tape became public. Shockingly explicit, she takes James Deen as you'd never imagine, in a backdoor scene you'll never forget. With her tight young body and totally uninhibited sexuality, it's no wonder why she wanted to capture this moment in time. And now you can too!"
Who the hell writes these things? And what is up with this whole "Farrah Superstar" thing? Is that her porn name now or something? I realize no one really cares about the names of porn stars, but do they really have to be so stupid? Farrah Superstar makes it sound like she's going to be farting glitter out of her butt. Anyway, you can view the frightening (NSFW) trailer if you want by clicking here.
So, what does Farrah think about the sex tape being released?
 "Well looks like Vivid released their version of my video…ya I'm not watching, but thank you all for the positive compliments #XXX"
First of all, aren't all compliments positive? That's why they're called compliments! And one other thing, why isn't she going to watch the video? Just last week she was saying one of the reasons she sold the tape was to celebrate her awesome body. Does she not want to celebrate it anymore? Is it no longer awesome? I'm so confused.
Update: Farrah is blowing away Kim K's tape.  According to TMZ:
Farrah's 70-minute debut, "Backdoor Teen Mom," lured in more than 2 million visitors in just 12 hours Monday … annihilating the record previously held by Kim K and Ray J — which attracted 600,000 during the same time frame.
All I have to say is: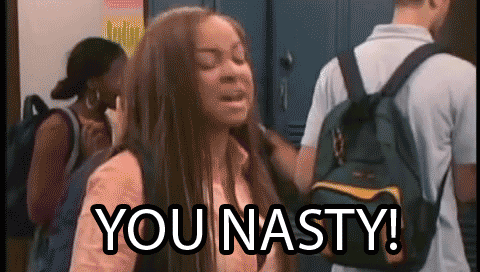 Read more...